Nominations came pouring in for the third quarter of our "Most Awesome Manager" and "Most Awesome Board Member" Contest.  Just as we suspected – there are a lot of really terrific, dedicated community association leaders in Central Florida. 
Presenting the 3rd Quarter 2016 Most Awesome Manager Winner:
Carlos Borrero of Sentry Management's Clermont Office
Tim Hamilton, Vice President, and Steve Emmett, Director of the Reserve at Belmore Homeowners Association nominated their manager, Carlos Borrero.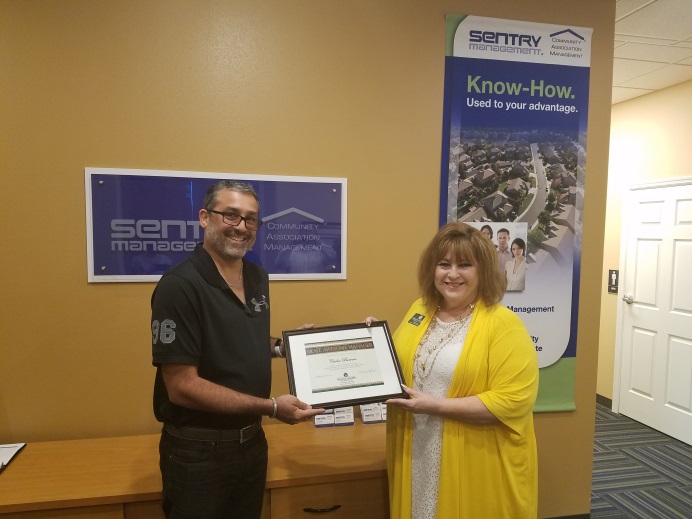 (Carlos Borrero receiving the Most Awesome Manager award from Clayton & McCulloh Public Relations Director Arlene-Frances Ring)
Tim nominated Carlos citing the following praise in his nomination: "Dedication, hard work, and countless hours!!! The neighborhood recently completed its largest project - surface road repaving. Carlos handled logistics, issues, and communications effectively resulting in a successful completion and numerous praises by many of the 360 homeowners. Additionally, regardless of date or time, Carlos is responsive; demonstrating dedication to our community. This level of engagement is appreciated by the Board and the homeowners." 
Another glowing nomination from Steve stated: "The Reserve at Belmere is a gated and guarded community in West Orange County. Carlos has been our manager for just a little over two years.
During this short time, Carlos has shown dedication, devotion, and concern for our community that we heretofore have not experienced. Even though we do not have Carlos as our full-time manager, the community is generally not aware of this fact because of the time and effort expended by Carlos to ensure that our community remains one of the premiere communities in West Orange County.
Carlos is aware, mindful, and concerned about all aspects of our community. From ensuring that our landscape company keeps our common areas in excellent shape, to actively participating in regular collection meetings with our community law firm, to making sure we obtain the best possible terms (financial and performance) from vendors doing repair or improvement work, Carlos always has the best interests of ours at heart. It is not unusual to receive an email from him at 1a.m. with information about an issue or a better quote for services to be rendered.
Carlos is particularly effective when it comes to managing difficult homeowners (and yes, we have several of those!). He has a forceful, but respectful, manner that generally disarms the tension and effectively resolves the issue.
This year, our community has undertaken two very large projects - milling and repaving all our roads and implementing new access control measures for resident vehicles. For each project, Carlos has been onsite to immediately address resident concerns as the projects are underway. In large part, his presence is responsible for the successful execution of those projects.
Carlos is a person that all of the board respects and relies upon for guidance, options, and suggestions that will improve our community. Carlos is a gem and an awesome manager!"
Clayton & McCulloh is proud to present the Most Awesome Manager Award to Carlos Borrero of Sentry Management's Clermont Office.  Congratulations, Carlos! 
Presenting the 3rd Quarter 2016 Most Awesome Board Member Winner: 
Janey Nieboer of Sweetwater Creek Neighborhood – City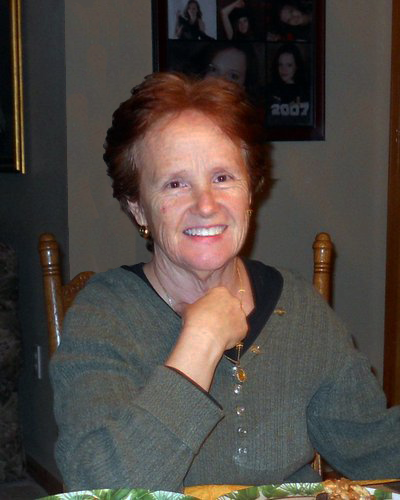 (3rd Quarter Most Awesome Board Member Janey Nieboer)
Janey was nominated by her Association's manager, Rebecca Bray of Sentry Management's Kissimmee office.  In her nomination, Rebecca gave her reasons why Janey was an Awesome Board Member:  "Janey Nieboer is an exceptional Board President. She is involved, informed and compassionate with her fellow homeowners. She is not a pushover, but stands her ground, when necessary, and backs up her opinions and judgment with solid research and facts. She is also an avid learner, interested in being educated and aware of Florida Statutes and any new legislature. Janey listens to the voices of her neighbors, and is a fair and just interpreter of the documents of her community. She writes articles for the monthly newsletter while working full-time, being a wife and mother, and caring for her elderly father. She has been the Board President for many years and is a delightful partner to the community manager."
Clayton & McCulloh is proud to present the Most Awesome Board Member to Janey Nieboer of Sweetwater Creek Neighborhood.  Congratulations, Janey!
---
Make your nominations now for the 4th Quarter Most Awesome Manager & Board Member!  The deadline for nominations is November 1.
---
Do you know of a manager or board member who has gone above and beyond the call of duty? The type of person who inspires others to overachieve? Well then, nominate them by November 1! What do they win? Glad you asked! For more Information, click here.