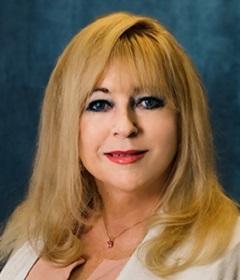 ‌ Office
Orlando/Maitland Office
The Clayton & McCulloh Building
1065 Maitland Center Commons Blvd.
Maitland, FL 32751
‌ Direct Line
(407) 875-4429
‌ Cell Phone
(407) 808-2553
‌ Phone
(407) 875-2655
‌ Fax
(407) 875-3363
‌V-Card
Arlene-Frances Ring
Arlene started with the firm in 1991 and is currently serving as our Director of Public Relations managing all aspects of our marketing, seminars, public relations, client development, social media, website, and our vendor and organization liaison. Arlene has worked in many areas of law through the years including corporate, telecommunications, transportation, administrative, pari-mutuel, real property, and condominium and homeowner association law. Prior to entering into the legal field, she was employed in a large Florida corporation's National Marketing Department.

In addition, Arlene has served in many capacities on the Boards of various Homeowners and Condominiums Associations in such positions as President, Secretary, Treasurer, and Architectural Review Board Chairperson. Other Association related positions included: Newsletter Chairperson, Welcoming Committee Chairperson, Document Revision Committee Chairperson, and Finance/Audit Committee. These roles helped prepared for her duties as the firm's Director of Public Relations. She is also the most tenured member of our firm excluding the founding partners.

Graduating from Valencia College, she has a degree in Paralegal Studies and Office Technologies.

Public Speaking Experience:

Arlene has been a popular speaker for Community Associations Institute (CAI), Space Coast Condominium Association, Northeast Community Association Managers (NECAM) Clayton & McCulloh's Community Association Law Seminars, Annual Directors Workshop, Brevard Community Association Management (BCAM) and the Orange County Neighborhood Partnership's Community Conference. She has also served as a guest speaker at many community association's annual meetings.

She has written for Clayton & McCulloh's newsletter, "Association Developments" and "For Managers Only!"; her college's newspaper, and a large corporation's employee publications. In addition, her work has been featured in "Condo Management" magazine, Orange County Homeowners Association's newsletter, and Community Association Institute's publications.

Professional Associations:

Arlene is currently the President of Brevard Community Association Management (BCAM) and one of the founding partners of the organization. She served as President from 2008 - 2012 as the President of Northeast Community Association Managers (NECAM). She is also a member of Community Association Institute (CAI), Space Coast Condominium Association., Condominium Homeowner Association of Indian River County, and the Mid Florida Residential Group of Resident Owned Communities. She was the 1998 President of CAI where she also served on the Board of Directors and as Membership Chairperson.

She has also worked on numerous local, county, state, and national political campaigns through the years. Additionally, in the past she has been active in various dog rescue groups.