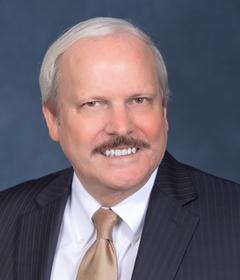 ‌ Office
Orlando/Maitland Office
The Clayton & McCulloh Building
1065 Maitland Center Commons Blvd.
Maitland, FL 32751
‌ Phone
(407) 875-2655
‌ Fax
(407) 875-3363
‌V-Card
Russell Klemm
Russell "Russ" Klemm has been practicing law in Florida since 1980. A former partner in the firm of Staack, Klemm, & Simms, P. A., Russ has extensive experience in the areas of civil and commercial litigation, real estate law, bankruptcy (debtor and creditor) foreclosure, corporation, association law and appellate practice. Russ also has significant experience in representing time-share condominiums and in commercial real estate litigation and commercial real estate transactional work. As a partner with the firm since 2002, Russ has experience in drafting and amending association documents, covenant enforcement, drafting opinion letters, litigation over contract disputes, construction defects, contract negotiations, covenant violations and complex litigation in both state and federal courts.

Graduating from Boston College with his Bachelor of Arts degree in Economics and Political Science, Russ was awarded his Juris Doctor degree from the Loyola University of Los Angeles School of Law.

Public Speaking Experience:

Public Speaking Experience He has spoken at many legal seminars for his former firm, local Bar Associations, and the Real Property Probate at Trust Law Section of the Florida Bar in real estate matters. In addition, he is a regular participant in the firms' Community Association Law Seminars. He has also been featured as a speaker at the Orange County Neighborhood Partnership Conference and well as the Orlando Neighborhood Partnership Conference.
He is admitted to practice in all Florida State Courts and Federal District Court, Middle District of Florida, and the United States Court of Appeals for the 11th Florida Bar Association. Russ is a member of the Association of Trial Lawyers of America, Community Associations Institute of Florida, Space Coast Condominium Association, and Brevard Community Association Management.

Russ and his wife, Sharon, reside in western Orange County, and Russ has served as a member of his Homeowners Association's Board of Directors.