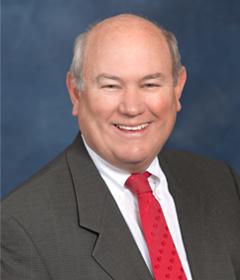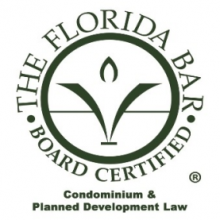 ‌ Office
Orlando/Maitland Office
The Clayton & McCulloh Building
1065 Maitland Center Commons Blvd.
Maitland, FL 32751
‌ Phone
(407) 875-2655
‌ Fax
(407) 875-3363
‌V-Card
Ken Clayton
Ken Clayton was born and raised in Orlando, Florida. He has practiced law in Central Florida, since 1974, primarily in the areas of Real Property, Corporate and Civil law with an emphasis in the area of condominium and planned unit development law. His client representation in this area has included numerous community associations along with developers, title insurance companies, lenders, purchasers and individual homeowners. Ken is involved with clients in creating, developing, and operating community properties. He assists clients with the purchase, sale and financing of existing and proposed projects. He also handles the sale, negotiation and closing of individual units. Ken has represented associations, individual and groups of owners and developers in connection with a wide variety of community association matters, including the turnover of control of the association by the developer to the homeowners. He also has represented various specialty types of associations, such as timeshares, condotels, marinas and fly-in communities. He has represented many associations in their ongoing legal matters, including drafting, interpreting and enforcing their covenants and restrictions. His practice has included litigating and negotiating construction contracts and handling land use matters. Eminent domain, particularly the unique aspects of dealing with the taking of association properties in right-of-way takings, is an important part of his practice.

In 2009, Ken and his partner, Neal McCulloh, formed Community Association Title, Inc. (CAT). This title insurance agency has been engaged to provide unique title examination and analysis needed by our association clients. CAT also has an active title insurance and real estate settlement services business which is made available to clients of the law firm and to the public.

Ken attended schools locally and graduated from Winter Park High School. In 1970, Ken graduated with a Bachelor of Arts degree from Washington and Lee University in Lexington, Virginia. He obtained his Juris Doctorate degree in 1973 from the University of Alabama School of Law.

Public Speaking Experience:

Ken is a much sought after speaker on a variety of legal topics. He has substantial experience speaking before large groups, including attorneys, community associations and groups of individual homeowners. Ken actively participates in the numerous seminars and educational programs that Clayton & McCulloh has presented throughout the State. At the 2009 Fund Assembly, Ken spoke to over 1,000 attorneys on the topic of Community Association Liens and Collections, sponsored for real estate attorneys by Attorney Title Insurance Fund. He has also spoken at numerous other educational programs, to many different types of audiences throughout the state. As one of the original founders of the Mid-Florida Chapter of Community Association Institute (CAI), Ken has spoken many times and held many offices with this organization. CAI is a national organization dedicated to educating, defending and promoting issues important to the community association industry.

Ken often writes and edits articles published in Clayton & McCulloh's quarterly newsletter "Association Developments." He has previously served on the Significant Decisions Committee of the Real Property, Probate and Trust Law Section of the American Bar Association, as the Florida State Editor of Significant Court Decisions Involving Real Property, and as the National Editor of Significant Court Decisions Involving Condominiums and Cooperatives. He has been a Contributing Editor to the National Magazine for Community Association Institute and to the Newsletter that was previously issued by the Mid-Florida Chapter of Community Association Institute. Ken has also been published in the "Condo Management" magazine.

Professional Associations:

Ken is a member of The Florida Bar, and the American Bar Association. With these Bar Associations, Ken has been involved with various Sections and Committees involved with real property, eminent domain, condominium, homeowners association, and planned unit development law. He has also been involved as a member and/or speaker for numerous other organizations supporting and promoting the interests of community associations.