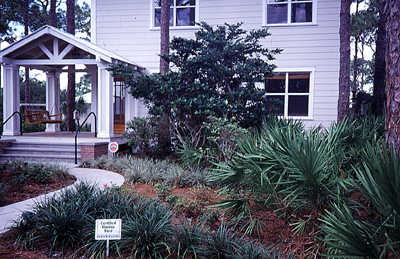 Florida Friendly Landscaping: The Misconception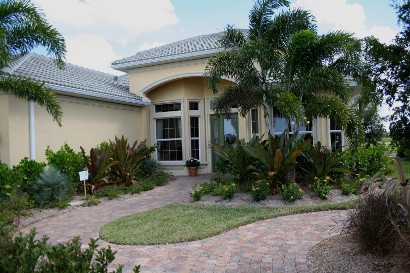 Photo credit: UF/IFAS Florida-Friendly Landscaping™ Program
Unfortunately, the law with respect to Florida Friendly Landscaping is still developing and is largely unsettled. Nevertheless, this Article will endeavor to explain the status of the law as of the date of this Article.
Owner(s) often maintain Homeowners Associations have no authority or power to review and approve modification to landscaping as long as such modifications constitute "Florida Friendly Landscape." However, that position arguably is not supported by the law. For your convenience, we have reprinted below in pertinent part the relevant provision of Fla. Stat. §720.3075 (hereinafter referred to as the Florida Friendly Landscaping statute, or simply, the "Act"):
"(b) Homeowners' association documents, including declaration of covenants, articles of incorporation, or bylaws, may not prohibit or be enforced so as to prohibit any property owner from implementing Florida-friendly landscaping, as defined in s. 373.185, on his or her land or create any requirement or limitation in conflict with any provision of part II of chapter 373 or a water shortage order, other order, consumptive use permit, or rule adopted or issued pursuant to part II of chapter 373." (Emphasis added).
Nothing in the Florida Friendly Landscaping statute necessarily eliminates the approval process required by the governing documents of a Homeowners Association. Stated differently, if the Declaration of Covenants and Restrictions requires that modifications be approved by a board or a committee, this requirement is not necessarily negated by the enactment of this statute.
The Florida Friendly Landscaping statute ostensibly only prohibits the enforcement of Homeowners Association restrictions where the result would prohibit property owners from installing Florida Friendly Landscaping on their property. However, most Homeowners Association documents do not deny owners the right to implement Florida Friendly Landscape on their property. Rather, they may require landscape approval, certain landscape be used, etc. While an Association cannot deny owners the right to implement Florida Friendly Landscaping, this does not necessarily authorize owners to implement landscaping that would either:
1. disrupt an overall consistent appearance of the community; or
2. cause property values to decline.
The purpose of requiring approval for landscape modifications or requiring certain landscaping is to protect the uniformity, aesthetics and property values of the community, and the statute arguably should not obviate this objective.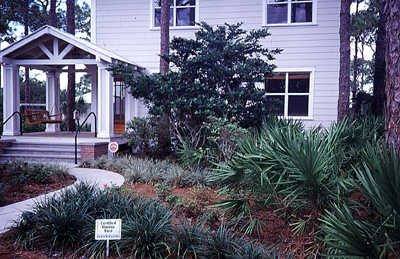 Photo credit: UF/IFAS Florida-Friendly Landscaping™ Program
Given the above, Clayton & McCulloh does not believe that Florida Statute §720.3075 ("Act") permits owners to automatically and unilaterally install any and all Florida Friendly Landscaping they wish. Similarly, we do not believe the Act permits owners to install Florida Friendly Landscaping in any location they wish. Rather, the Act provides a basis upon which owners can plant Florida Friendly Landscaping, despite restrictive provisions in an Association's governing documents, provided it is planted pursuant to a properly qualified plan and further provided it utilizes the species of Florida Friendly Landscaping (i.e., foliage) reasonably approved or accepted by the Association.
As suggested above, before the Act should invalidate or render one or more of the landscape requirements set forth in an Association's Governing Documents unenforceable, arguably an owner must have a proper landscape plan prepared. Additionally, if required by the Association's Governing Documents, such owner ostensibly must submit and obtain the requisite approval of the Association.[1]
The University of Florida and the water management districts have taken the lead in the education, implementation, classification and certification of Florida Friendly plant species. Additionally, they have drafted guidelines and other resource materials regarding Florida Friendly Landscape. These materials likewise appear to take the position that the Act (i.e. Fla. Stat. §720.3075) does not invalidate community Association architectural control provisions. Moreover, as there are over 1,000 Florida Friendly plant species, a Community Association should be able to establish a narrower list of acceptable plant species so as to keep a uniform and cohesive appearance throughout the community.
Given the above, it is Clayton & McCulloh's position that the Act should not expressly extinguish an Association's authority to approve exterior modifications, including its authority to reasonably regulate Florida Friendly Landscaping to ensure consistency with its governing documents and the overall landscape scheme of the development. To decide otherwise arguably flies in the face of the legislative intent and stifles the authority of all homeowners Associations to enforce their restrictive covenants.
Clayton & McCulloh recommends that Homeowners Associations approve a reasonable list of the specific Florida Friendly Landscape species which are or will be permitted. Additionally, many Associations should consider an amendment to their restrictions delineating that Florida Friendly Landscape changes will be permitted provided:
a proper plan is submitted to and approved by the Association;
2. the species of Florida Friendly Landscape sought to be planted and maintained are consistent with and conform to those approved by the Association.[2]
Unless and until such provision(s) are implemented or exist, an owner may be in a better position to maintain that:
(1) the Association or its governing documents may not prohibit and/or preclude Florida Friendly Landscaping;
(2) the Association may lack the right to approve any such change as the governing documents fail to address Florida Friendly Landscaping and specify what Florida Friendly Landscaping is permitted; or
(3) the owners have the unilateral right to incorporate Florida Friendly Landscaping of their choice on their lots.
Even if an Association's Governing Documents fail to provide specific provisions addressing Florida Friendly Landscaping and the Association's rights relative thereto, this does not necessarily mean the Association would be precluded from restricting, at least to some degree, Florida Friendly Landscape. However, implementing and ensuring an Association's governing documents address such matters may improve an Association's position, claims or defenses. As such, we recommend our Homeowners Association clients:
(1) adopt at least a reasonable and fairly extensive number of approved species of Florida Friendly Landscaping which it will permit;
(2) if necessary, adopt an amendment to the declaration of covenants and restrictions which designates the Association's approved Florida Friendly Landscaping, and which provides, as a prerequisite to installing Florida Friendly Landscaping, that a proper plan (which delineates the species to be used and their location) be submitted to and approved by the Architectural Control Committee[3];
(3) evaluate any owner's request to install Florida Friendly Landscaping, which request (provided the above pre-requisites exist) should include a plan submitted by the owner wishing to implement the Florida Friendly Landscaping, which plan delineates exactly what Florida Friendly Landscaping such owner intends to install and where; and
(4) timely approve (or disapprove) any owner's request and plan for Florida Friendly Landscaping. (Note, such approval ostensibly should be predicated upon the species of Florida Friendly Landscaping sought to be planted being within those approved and authorized by the Association and the plan otherwise being reasonable and proper.)
Consistent with the above, we would recommend that each of our Association clients review the University of Florida's and the Water Management District's lists of Florida Friendly Landscaping and choose a significant variety of species that the Association will permit. Clayton & McCulloh likewise recommends that our Association clients retain the services of a landscape architect or other professional to assist with this endeavor as well as to evaluate any plans which are submitted. Again, the fact that the Association approves a certain species of plant does not, by itself, necessarily eliminate the Association's right to evaluate the placement of such landscaping, etc.
---
[1] While an Association needs to comply with the Act, it generally should have the right to approve the landscaping, evaluate the sufficiency of any landscape plan and/or ensure its compliance with the Act, provided such right(s) are provided for in the Association's governing documents.
[2] Provided a Homeowners Association has architectural control or approval rights, as well as a proper Florida Friendly Landscape provision, arguably, the Association should be able to require owners to provide to the Association for approval a professionally-drawn landscape plan for the area proposed to be altered, which plan should contain a comprehensive plant list consistent with the Association's approved species of Florida Friendly Landscape. Hopefully the approach set forth herein will enable an Association to require landscape changes to be generally consistent in appearance with the balance of the community.
[3] Note, in certain circumstances, a Board-adopted rule, regulation, policy and/or procedure may suffice.