West Name Partner
at Clayton & McCulloh
News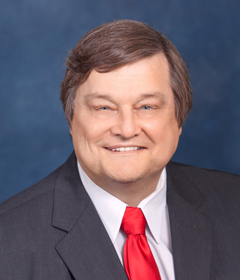 WEST NAMED PARTNER
AT CLAYTON & McCULLOH
Maitland, Fla. (June 16, 2014) Clayton & McCulloh is pleased to announce that Attorney Paul S. West has been named a partner in our law firm. Paul currently heads up our fast growing Probate and Estate Planning Department.
Paul West attended the Nova Southeastern University's School of Law and obtained his undergraduate degree from American Christian College earning a Bachelor of Arts in Biblical Studies. Paul was admitted to the Florida Bar in July 2000. Paul has been a licensed real estate broker in the state of Florida since 1976 primarily practicing in commercial real estate leasing, buying and selling. He has earned the prestigious designation as a Certified Commercial and Investment Member, (CCIM™).
In 1998, Paul was appointed to serve on Florida's Constitution Revision Commission (CRC). The CRC, which is comprised of 37 community leaders appointed by the Governor, House Speaker, Senate President and Chief Justice of Florida's Supreme Court, is constitutionally mandated to convene every twenty (20) years to review Florida's Constitution, conduct statewide public meetings and propose amendments to the Constitution. Paul obtained his appointment from then Speaker of the House Daniel Webster, a current member of the U.S. Congress.
Paul joined Clayton & McCulloh in July 2009 and has focused his practice on title insurance, real estate collections, estate planning, probate and trust law. He is also a principal in our partner company, Community Association Title (CAT) and has been instrumental in expanding this company.
Clayton & McCulloh focuses its practice in the areas of community association and real estate law. We also have a branch office in Melbourne Office conveniently located in the Suntree/Viera area.
===
For more information:
Arlene-Frances Ring - 407-875-2655