Tribute to Paul West
Partner with Clayton & McCulloh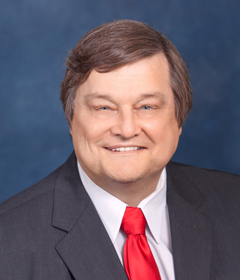 Saturday, February 11, 2017, the good Lord took inventory of the angels in Heaven and decided He needed a very special angel. And only one person could fill that place – Paul West, one of our firm's Partners. The Lord brought one of his most gregarious, generous Christian men to Heaven to be with Him.
Paul cared very much for his clients and co-workers. He viewed practicing law as an opportunity to live out his faith. He was very effective and successful with how he applied his Christian principles to his practice.
Paul joined Clayton & McCulloh in 2009 and headed our Community Association Title Department as well as our Estate & Probate Department. Additionally, he worked in our Collections and Real Estate Departments. He was a licensed title escrow agent and real estate broker. Besides being a frequent speaker for many entities, Paul was also one of our most popular seminar speakers where he brought his enthusiasm for life and sense of humor to every seminar.
Besides his legal expertise, Paul was the heart of Clayton & McCulloh and reached out to everyone always going above and beyond. He coordinated our internal college and professional sports pools as well as a monthly trivia contest. He remembered every person's birthday and always brought in Krispy Kreme doughnuts telling us he had to valiantly fight off the bandits who were trying to steal the doughnuts away from him. Paul very generously donated to all our internal charitable events, including our donation drive for the Pet Alliance of Central Florida and the Howard Middle School Christmas drive.
Besides being a man of deep faith who earned his Bachelor's degree in Biblical Studies, Paul was a very patriotic American and had tremendous pride in our country. This pride was reflected in his office décor with items such as a reproduction of the Liberty Bell, a personal favorite of his.
Our prayers go out to his lovely wife, Ann, their children, grandchildren, and his brother in law, Joe Stayanoff who is one of our partners.
He will be sorely missed by everyone whose life he touched and there were so many people's lives that he entered. He never met a stranger and was always willing to give the shirt off his back. "Precious in the sight of the Lord is the death of his saints." Psalm 116:16. Paul was our saint.