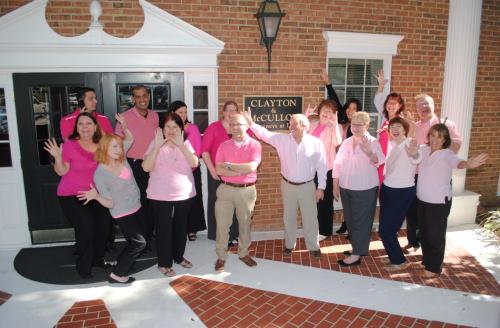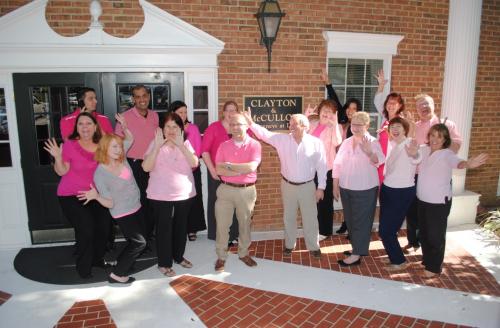 The Maitland Office Staff of Clayton & McCulloh Show Their Support
for Breast Cancer Awareness Month
(Not Shown: Our Winter Park & Melbourne Office Staff)
As part of Clayton & McCulloh's commitment to community issues, the firm made a donation to the Susan G. Komen Fund and the American Cancer Society for Breast Cancer for each employee wearing pink. During the month of October, our staff wore pink to show their support for Breast Cancer Awareness month! For each staff member wearing pink on each Friday's Business Casual Day, we made a donation to the above outstanding charitable organizations dedicated to finding a cure for breast cancer.
The American Cancer Society estimated that for the year 2014, there would be approximately 40,000 deaths from breast cancer; 232,750 new cases of invasive breast cancer, and 62,750 new cases of carcinoma in situ (CIS), the earliest form of non-invasive breast. Breast cancer is the most common cancer among women in the United States other than skin cancer. It is the second leading cause of cancer death in women after lung cancer. Clayton & McCulloh is proud to be a supporter of these organizations fighting this dreaded disease.
===
For more information:
Arlene-Frances Ring - 407-875-2655