The Wait Is Over For The
Florida Statute Service!
Clients and Non-Clients
Get Yours Now!  Limited Amount Available!
Yeppers!  You asked for it!  And it is now here!  The Florida Statute Service.  Through the years, our clients have requested copies of the Florida Statutes in a presentation format and we have now answered their call.  There are four books:
Homeowners Association (Chapter 720)
Condominium Association (Chapter 718)
Mobile Home Park (Chapter 723)
Cooperatives (Chapter 719)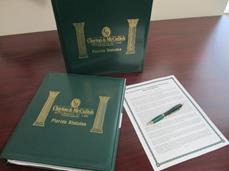 Each book features a custom handsome forest green binder with gold inlay.  Chapters are tabbed and each page has been placed in a sheet protector.  The Books include the various Statutes relevant to the particular book's community type plus a bonus of numerous educational, legal informational articles on the basics of operating your Community Association. 
These articles include the following topics:
Amending Governing Documents
Collections
Covenant Enforcement
Fiduciary Duty of Board Members
How to be a Director
Annual Meeting
Marketable Record Title Act
Complimentary annual updates to the books will be provided electronically on the 15th of September and January of each year.  The cost of each book is $70.00 (includes tax).