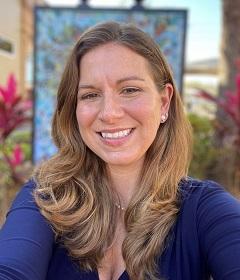 ‌ Office
Orlando/Maitland Office
The Clayton & McCulloh Building
1065 Maitland Center Commons Blvd.
Maitland, FL 32751
‌ Phone
(407) 875-2655
‌ Fax
(407) 875-3363
Morgan is the newest legal addition to our law firm. She comes to us with a strong background in title work, foreclosure litigation, and real estate law. Early in her career she served as an Assistant City Attorney for several Central Florida municipalities and even worked as a land planner. She earned her undergraduate degree from Rollins College in Winter Park and subsequently received her law degree from Florida State University in 2008.
She is a wife and a mother to an eight-year-old son. As part of Morgan's Embracing Community endeavor, she is a fur mom to three rescue dogs (one senior and two puppies) and serves as a Cub Scout Den leader. She also worked with a wildlife rescue group where her primary interest were raptors and she is a birdwatcher.
Her practice area within the firm will be in our Collections Department handling collection of delinquent assessments, lien foreclosures, mortgage foreclosures and litigation.